First ever Motek HERO Solution goes to University of Strathclyde, UK
Motek
We are proud to announce that the first Motek HERO Solution in the world has been purchased by the University of Strathclyde in the UK.
The HERO Solution, developed by Motek and in cooperation with Monitored Rehab Systems, is a 5-system solution for complete functional movement rehabilitation. This includes the all-new C-Mill HERO, the newest development to the C-Mill product line of cutting-edge balance and gait treadmills. Medically certified, the HERO Solution enables you to treat patients on functional strength, gait & balance, coordination and motor control to improve mobility problems caused by neurological, orthopaedic, muscular, cardiovascular or other conditions such as Covid-19.
The full HERO Solution package includes:
C-Mill HERO

FysioRoadmap Basic
MR Functional Squat
MR Cable Column
MR Cube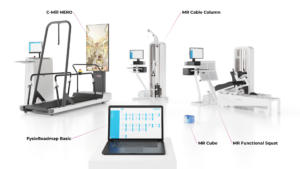 The University of Strathclyde's Department of Biomedical Engineering is a pioneer in the field of developing rehabilitation technology, and the HERO Solution will be used in The Sir Jules Thorn Centre for Co-Creation of Rehabilitation Technology, a new part of the Department's world-class research hub. The Centre will revolutionise collaborations between academia, industry and the public sector in order to improve or develop clinical and community-based service models for rehabilitation. Their biomedical engineering facilities include the Motek CAREN Extended, which they have been using for 6 years for cutting-edge gait analysis, as well as the Hocoma ArmeoSpring for upper limb functional movement therapy.
Sara Brammall, Managing Director at Summit Medical and Scientific, said:
"We are immensely proud to be the first company to supply the new Motek HERO Solution. This solution is needed now more than ever during the Covid-19 pandemic to provide streamlined and comprehensive rehabilitation for movement recovery and the opportunity for patients to return to a full and active daily life."
Frans Steenbrink, VP Research Solutions DIH and Executive Management Team Motek, said:
"As a long-lasting partner for Motek it is our absolute pleasure and an honour that we can install the HERO Solution at Strathclyde University to support their translational research to bring biomechanics to clinical PT practice.

"Having the CAREN Extended and the HERO Solution, combined with multiple custom setups all controlled by our D-Flow software offer a unique platform for both research and clinical use of advanced rehabilitation technologies."
Dr Andy Kerr, Lecturer in Biomedical Engineering and Physiotherapist, said:
"This type of technology is critical to achieving our ambition of equitable access to effective rehabilitation. The kit will fit perfectly into our existing portfolio of rehabilitation technology as we prepare to launch our new Sir Jules Thorn Centre for Co-Creation of Rehabilitation Technology in spring 2021."
For more information about the HERO Solution, please call 01372 459863 or email info@summitmedsci.co.uk. Read more about The Sir Jules Thorn Centre for Co-Creation of Rehabilitation Technology here.