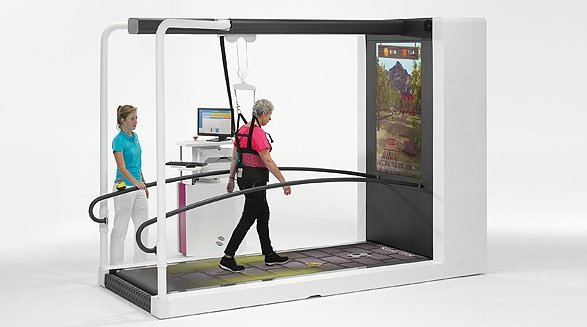 Motek C-Mill
The C-Mill by Motek is an innovative treadmill for the evaluation and training of impaired gait and balance. Using augmented reality (AR), virtual reality (VR), acoustic cues and force plate technology, the C-Mill is the ideal solution for effective functional movement therapy. Download the C-Mill brochure here.
The C-Mill uses obstacle avoidance games, dual-tasking applications, realistic virtual reality environments and a variety of balance challenges to encourages gait adaptability strategies. This prepares patients for functional movement in everyday life – all within a safe and controlled environment.
The use of projections means that obstacles and targets no longer have to be set up, leaving more time for patient exercise. Patients take many more steps during C-Mill training, compared to conventional therapy using parallel bars. This increases the intensity, repetition and length of treatment, and is more rewarding and fun for the patient as they recover their stability and gait.
The C-Mill's unique force plate technology allows for accurate gait analysis and real-time reporting, empowering therapists with meaningful data for tracking progress and giving performance feedback.
Testimonial: Mike's story
We're proud to launch a new video depicting the emotional rehabilitation journey of engineer Mike Jones after he loses his leg in a motorcycle accident. Mike's life changed instantly on that day, and his injuries had a lifelong physical and psychological impact on him.
Mike's therapy sessions at The Morrello Clinic using the C-Mill treadmill allowed him to rediscover his drive to overcome any obstacle in his way. He is now one of Europe's top disabled golfers.
C-Mill configurations
There are four different configurations for the C-Mill available, which can be tailored to your specific needs: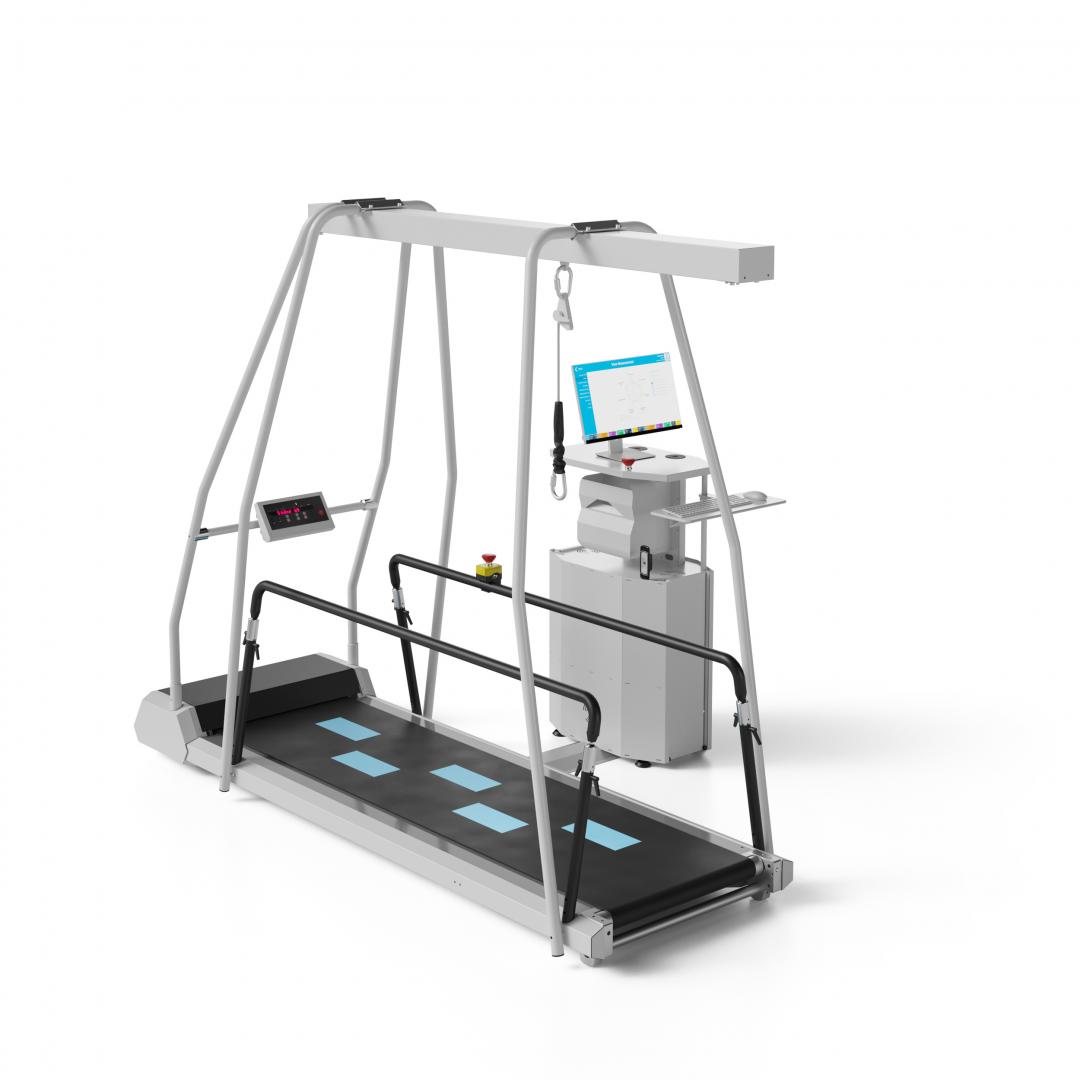 C-Mill
This is the basic C-Mill model, featuring an instrumented treadmill, augmented reality projections on the treadmill belt, a safety harness, handrails, and a full suite of gait and balance applications.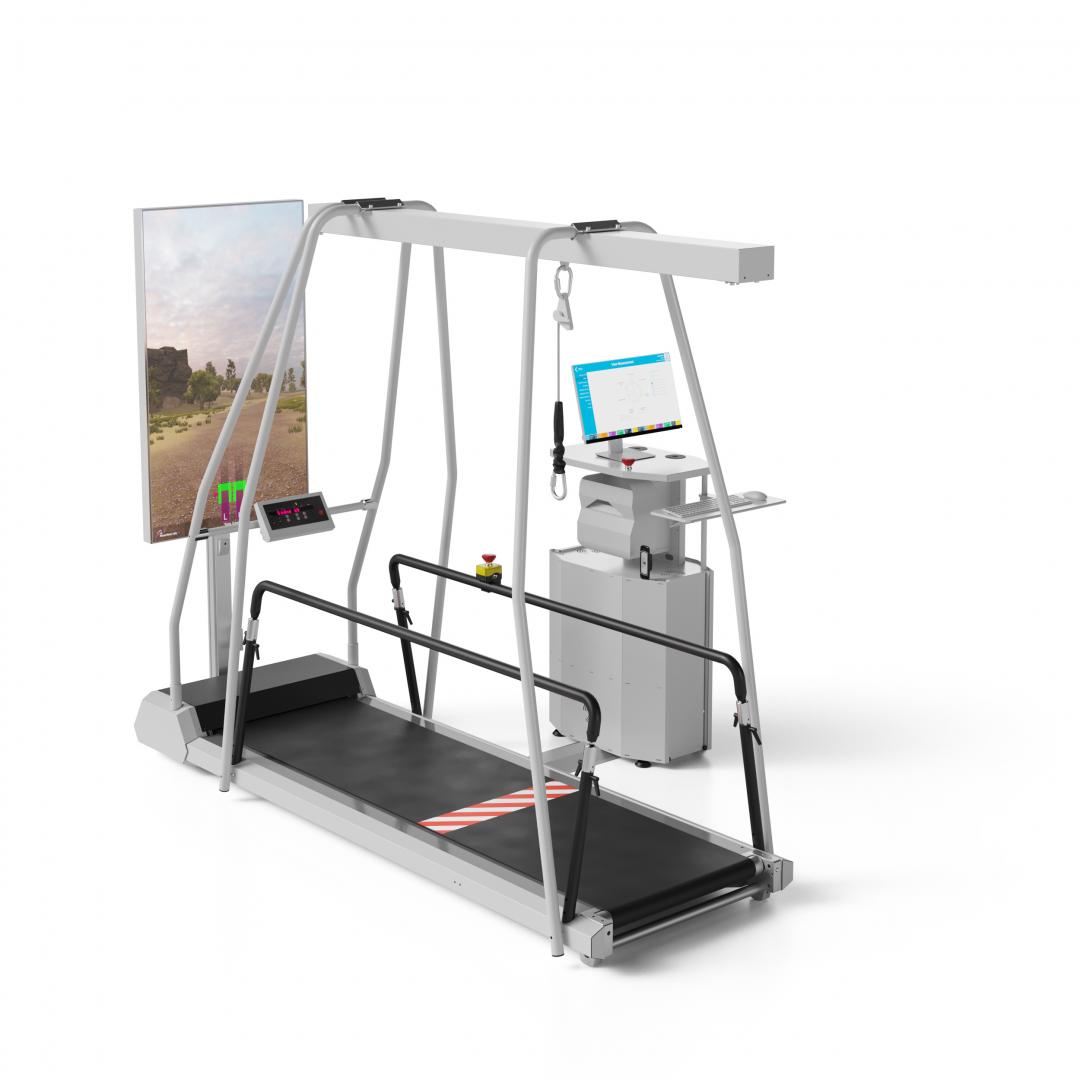 C-Mill VR
This C-Mill model features an instrumented treadmill, augmented reality projections on the treadmill belt, a virtual reality screen, a safety harness, handrails, and a full suite of gait and balance applications.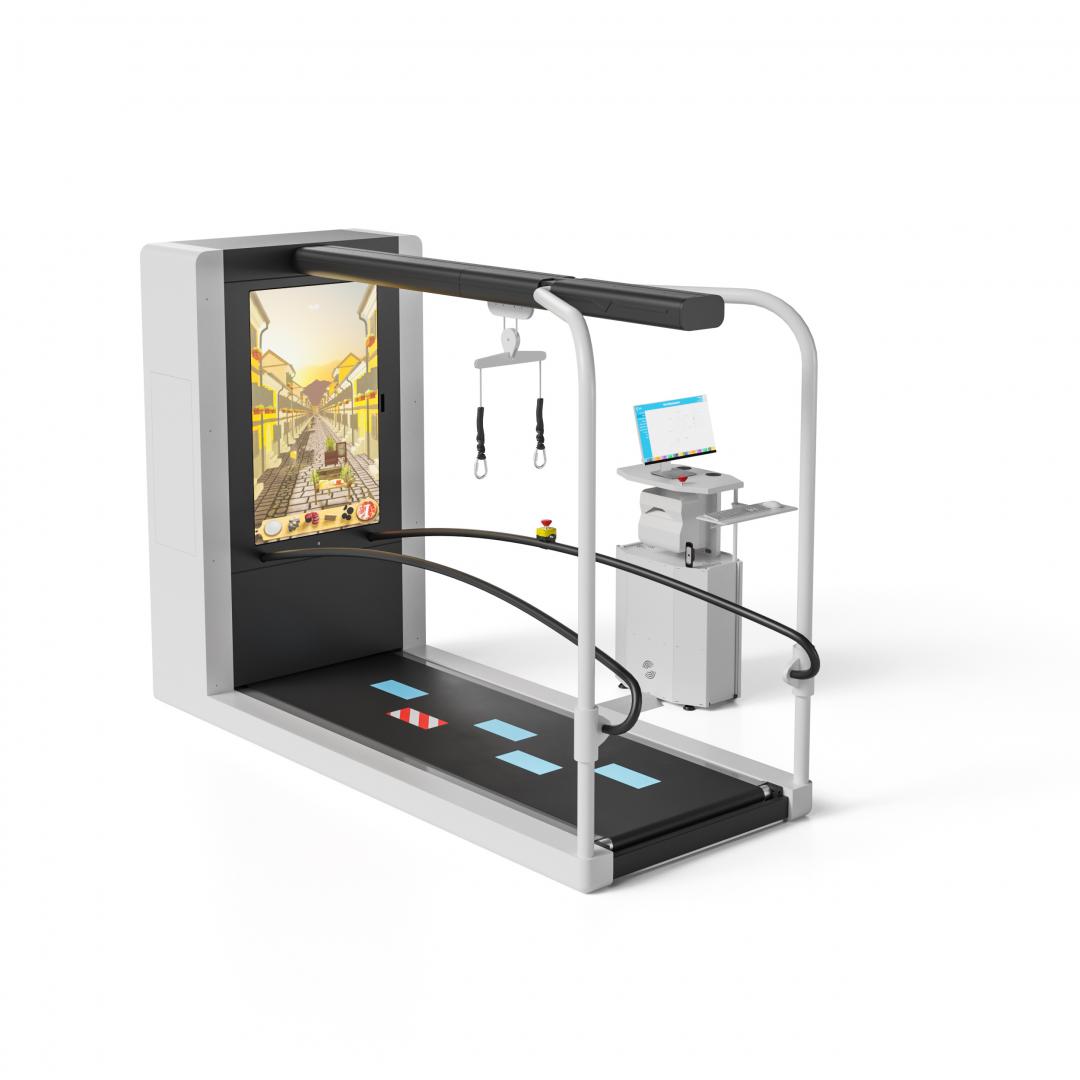 C-Mill VR+
This advanced C-Mill features an instrumented treadmill, augmented reality projections on the treadmill belt, an inset virtual reality screen, a safety harness, handrails and a full suite of gait and balance applications. Built-in body weight support system is optional.
NEW: Motek HERO Solution
The HERO Solution, developed by Motek and in cooperation with Monitored Rehab Systems, is a 5-system solution for complete functional movement rehabilitation.
Featuring the C-Mill HERO, the newest development to the C-Mill product line of cutting-edge balance and gait treadmills, simulating challenging everyday scenarios through augmented and virtual reality. It shares the line's interactive and dynamic exercises, as well as an adjustable pitch for uphill walking and dual-tasking exercises.
Who can use the C-Mill?
The C-Mill treadmill is ideal for patients requiring rehabilitation for any condition affecting their gait, balance or stability, and for fall prevention. This includes neurological conditions, lower limb amputees, spinal injury, traumatic brain injury, stroke, Parkinson's Disease, movement disorders, and cerebral palsy.
A fully-integrated body weight support system is available as an optional extra, for any patients who are unable to stand or walk by themselves or require help to stand up out of their wheelchair. It is possible to significantly reduce the patient's body weight during their gait and balance training, so they can start therapy much earlier in the rehabilitation process. A ramp can also be provided so wheelchair patients can access the C-Mill and its body weight support system.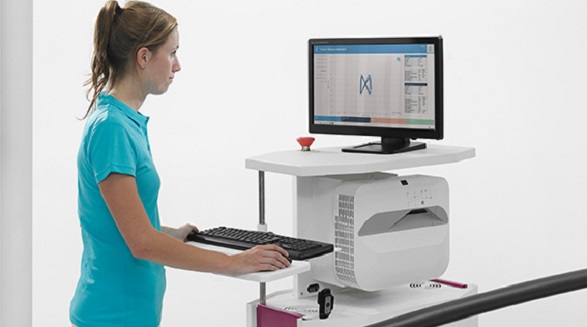 Real-time gait analysis
The C-Mill is a unique clinical treadmill – its use of force plate technology means that parameters such as step length, width frequency and symmetry are automatically recorded and analysed in real time. This means there's no need to attach markers or wires to the patient. The treadmill's extensive data collection allows for valid, objective and reliable assessment, so the therapist can spend more time focusing on providing high-quality, intensive, efficient therapy.
Consequently the C-Mill can be used for balance (static postural control and dynamic weight shifting in four directions); for gait (spatio-temporal parameters and the patient's centre of pressure); and for gait adaptability (using the treadmill's projection and VR applications to simulate real-life situations).
Tailored to each patient
Therapists can make adjustments tailored to each patient, set challenges, monitor the immediate effects, and generate reports – all with just a few clicks and in real time.
The patient's performance can be measured and saved to provide short and long-term progress reports, allowing the therapist to tailor each session according to the patient and their progress.
The Brain and Spinal Injury Centre
"A 54-year-old patient had a left-sided stroke in September 2016. After 10 sessions using Virtual Reality (VR), including the C-Mill, she stated she was more confident in her walking and her balance skills had improved. This means she felt safer when walking around, both indoors and outdoors.
A 52-year-old patient suffered a right-sided weakness following a stroke in April 2017. He had 10 sessions using Virtual Reality, including the C-Mill. He states that his confidence has grown and he feels safe walking short distances, and he is now able to manage the stairs.
A 60-year-old patient has right-sided weakness following a haemorrhagic stroke in 2011. He has had 12 sessions using Virtual Reality, including the C-Mill, and he feels he is confident in walking and everyday movement including indoor and outdoor activities. This includes managing to step up curbs and weather-related challenges. The C-Mill's Gait Adaption applications have helped with better placing of the right foot when using the stepping stones programme, and the obstacle avoidance challenges has helped this patient with walking on pavements."
The Brain and Spinal Injury Centre (BASIC)
The Portland Hospital
"We have a standard treadmill in our outpatient gym but felt that the C-Mill would offer a more interactive therapy experience and enhanced treadmill training. We have had the treadmill on loan for 3 months and have used it with a wide variety of patients aged from 4 -15. We have used it for post-operative orthopaedic and neurological diagnoses including Cerebral palsy-following SDR surgery, post-op limb lengthening and brain injury rehabilitation.
The stepping stones function has been excellent for promoting improvements in stride length and the children have particularly enjoyed the animal games that promote sideways movement and stepping over objects. It is unusual to have a treadmill that you can move around on and it provides a much more functional environment to work on gait training. We have found that we have been able to do longer sessions than on a standard treadmill as interest is more easily sustained.
There has been a great reception from staff and they have all found it easy to use; our patients have loved it, remaining engaged throughout their treatment sessions."
Nicole Cash, Clinical Lead Paediatric Physiotherapist at the Portland Hospital for Women and Children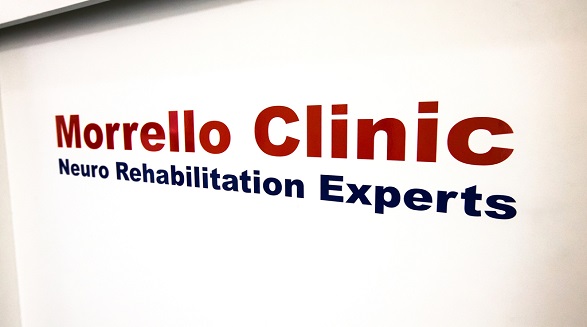 The Morrello Clinic
"The use of augmented feedback and virtual reality technology in neuro rehabilitation"
Aims: To evaluate augmented feedback and virtual reality treadmill training on the provision of gait rehabilitation following stroke.
Results: Comparison of treatment records prior to treadmill training with C-Mill assessment and treatment data over a period of up to 12 months, showed considerable improvements in gait speed and in distance/time walked. All achieved their functional goals.
Mike Jones, lower limb amputee and patient at the Morrello Clinic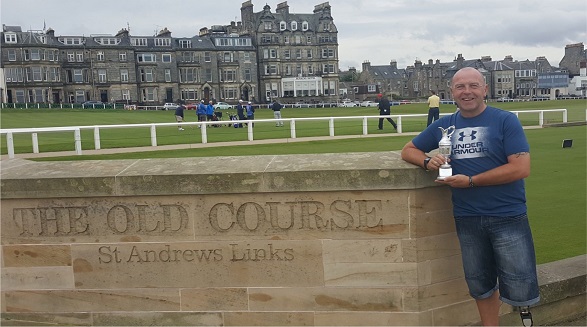 "My lower left leg was amputated after a traffic collision in October 2015. After I relearned how to walk with my prosthetic leg, I started my physiotherapy under the expert care of staff at The Morrello Clinic in Newport where I started using Motek's C-Mill. The C-Mill is an amazing piece of equipment which has changed my life. I use it every week as part of my rehabilitation therapy, mostly walking on the treadmill to improve my gait and speed but also using applications such as targeted stepping stones, slalom and tandem walking, obstacle avoidance and using visual cues to speed up and slow down. The treadmill's step adaptation to my own gait is brilliant, as the equipment knows exactly where I will naturally step. It projects obstacles on the treadmill right where I am about to place my foot so I have to change my step suddenly. The gait analysis reports help me see how much progress I've made each session. The C-Mill has really made a difference, as it's made me more confident and pushes me to make improvements in a safe environment."
Other Motek Products
For research and clinical uses.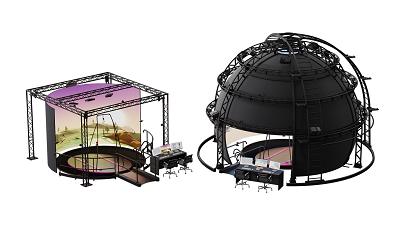 CAREN
The Computer Assisted Rehabilitation Environment (CAREN) is a versatile, multi-sensory system used for clinical analysis, rehabilitation, evaluation and training of human movement, balance and gait.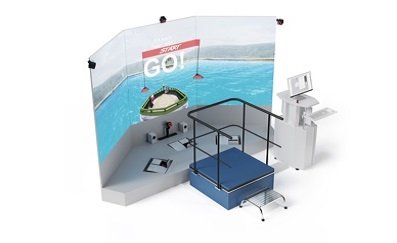 DynSTABLE & STABLE
These products are a clinical solution for assessment and training of impaired balance and stability. Both use virtual reality, and the DynSTABLE features a force plate within a moving platform.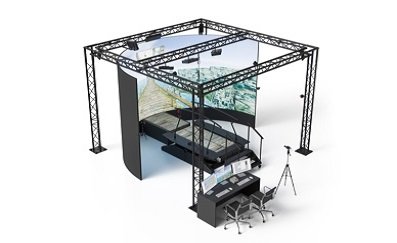 GRAIL
The GRAIL (Gait Realtime Analysis Interactive Lab) is a complete solution for gait analysis on 25m², and training in challenging conditions on a dual-belt instrumented treadmill with fast pitch and sway.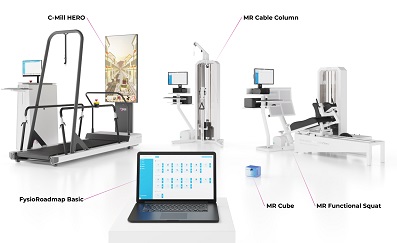 HERO Solution
The HERO Solution, developed by Motek and in cooperation with Monitored Rehab Systems, is a 5-system solution for complete functional movement rehabilitation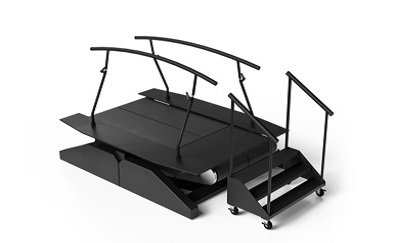 M-Gait
The M-Gait is a modular 3D instrumented dual-belt treadmill, which can have various upgrades to enhance your set-up such as pitch and sway, motion capture, bodyweight support and virtual reality.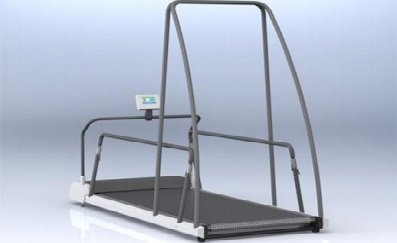 N-Mill Treadmill
Smaller than the C-Mill, the N-Mill is a single belt treadmill with an optional force plate.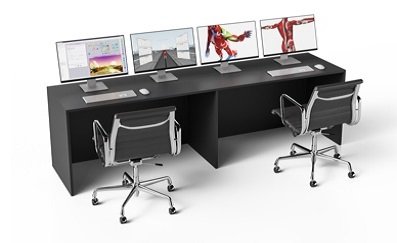 Motek Software
Including D-Flow, a control software suite which provides real-time data streams and users can easily create their own applications, and The Human Body Model for visualisations of muscle forces of the subject's body on-screen.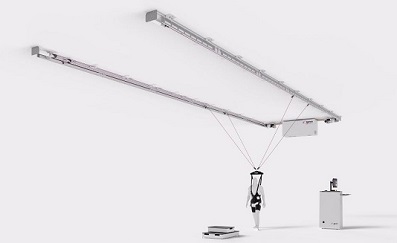 NEW! RYSEN
The RYSEN is the next generation of 3D body weight support systems, assisting patients in an all-directional, assist as-needed capacity to improve movement function.