CAREN training conducted at Defence and National Rehabilitation Centre
News
The first group of staff working with the new High End CAREN system at the Defence and National Rehabilitation Centre (DNRC) have completed their initial training programme and soon will be ready for action! Developed by Motek, the Computer Assisted Rehabilitation Environment (CAREN) will be used to rehabilitate active soldiers and military veterans at the state-of-the-art facility, recently gifted to the nation.
The CAREN immerses patients in virtual reality (VR) environments within its 360 degree projection dome, training them to stand, walk, run and dual-task again using a split-belt treadmill mounted on a six degrees of freedom motion base. Using easy-to-use D-Flow software, staff including therapists, clinical scientists, researchers and technicians can make real-time adjustments and conduct in-depth gait analysis to train healthy movement. Reports can be generated easily for the medical staff at the facility. Read more about the CAREN's installation here.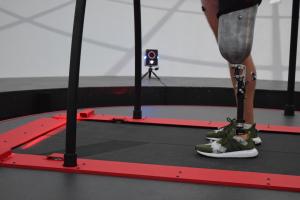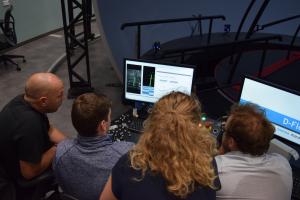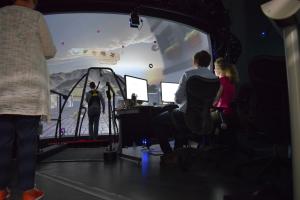 We were thrilled to welcome Mike Jones, UK C-Mill ambassador and client at The Morrello Clinic, who we invited to try out the CAREN during the training. Mike recently attended the World Congress of Biomechanics with us in Dublin, demonstrating the GRAIL and how Motek's products benefits patients such as lower leg amputees. The CAREN's new staff at the DNRC were able to learn how to use the equipment using Mike as their subject, exploring the numerous virtual reality programmes and how the system's wide range of movement and applications could challenge and benefit a patient like Mike.
We will share more updates on the CAREN training programme's progress over the coming months so make sure you follow our Twitter, Facebook and LinkedIn pages. If you would like to find out more about Motek, the CAREN system or any other products we provide, please contact us.
You can view videos from the training programme here.