Life Science Robotics product spotlight: the ROBERT upper limb module
Life Science Robotics
New to the UK, the ROBERT® is an innovative robotic rehabilitation device that focuses on delivering efficient therapy for clinicians and providing early mobilisation for acute patients.
Developed by Life Science Robotics and distributed in the UK by Summit Medical and Scientific, the ROBERT® is used by therapists to perform an initial movement, and then the device repeats this to deliver the desired frequency and intensity.
The ROBERT® is a unique device which offers training for both the upper and lower limb, so in this product spotlight blog we'll share the benefits and innovations that ROBERT® brings with its upper limb module.
To find out more about the ROBERT® in the UK and how you can integrate healthcare robotic solutions into your clinical practice, please get in touch with the Summit Medical and Scientific team today.
Introducing the ROBERT® upper limb module
The ROBERT®'s upper limb rehabilitation module is suitable for patients who have upper limb weakness, such as patients who have experienced a stroke resulting in a loss of movement. It is also suitable for patients with traumatic brain injury, cerebral palsy, spinal cord injury, multiple sclerosis, and orthopaedic injury such as to the shoulder or elbow.
With seven degrees of freedom, ROBERT® can help this group of patients with functional recovery, promotes activities of daily living training, and can perform complex movements involving multiple joints and isolated exercises for a specific joint.
Uniquely, ROBERT® can assist patients in both a seated or lying position, so even the most immobile patients can receive upper limb training in a safe and extensive 3D workspace.
For therapists, the need to perform repetitive and straining exercises is no longer a part of the therapy process. Once the movement has been defined using the ROBERT®, the device then performs the exercise as many times as required. It only takes three minutes to set up a patient with the device, maximising efficiency and reducing workloads.
ROBERT®'s three training modes
ROBERT® has three training modes, which can be tailored to each individual patient's needs as they progress.
Active resistive mobilisation offers resistance against the patient's movement. The resistance level of the exercise is adjusted to the patient's functional strength.
Active assistive mobilisation assists the patient through the exercise. The patient's functional strength determines the level of activity during the exercise.
Passive mobilisation supports early mobilisation for severely impaired patients, who have a reduced level of function.
What the patients are saying
"I think I am starting to see a clearing ahead because now it is starting to help, all the times I have lifted and pushed and so on. Even though it has been tough. You go straight to your limit – and maybe sometimes a little over your limit… It helps, and one should not give up."

– Gurli, patient at FysioDanmark Slagelse, Denmark.
What the therapists are saying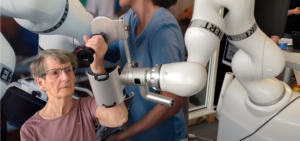 "We have started working with the arm module, and the clients we have working with it, including Gurli, are really happy to have the opportunity to use the arm module… We are conscious of setting goals – quite simple for them – so they can see that ROBERT® exercises are transferable to what they do in our gym. So that is our first starting point in terms of working with ROBERT® for the arms. 

For example, for Gurli the goal is for her to be independent in working with her left arm in our circuit machines. So that is why we have asked her to make the movement that should make her able to do it completely independently."

– Rune, physiotherapist at FysioDanmark Slagelse, Denmark.
About Summit Medical and Scientific
Summit Medical and Scientific are passionate about the power of rehabilitation technology.
We represent clinical technology leaders Hocoma, Motek and Life Science Robotics to provide the total solution for rehabilitation in the UK. Our partners have developed innovative therapy devices using robotics, sensors and virtual reality for early and acute rehabilitation, gait and balance therapy, arm and hand therapy, body weight support and more. Click here to view all our clinical solutions.
Get in touch with Summit Medical and Scientific today to find out more about incorporating state-of-the-art rehabilitation technology into your practice.
Contact us via email at info@summitmedsci.co.uk or call 01372 459863.
You can also follow us on Facebook, Twitter and LinkedIn, and subscribe to our newsletter for the latest updates.