5 things you need to know about the ROBERT by Life Science Robotics
Life Science Robotics
Earlier this week, Summit Medical and Scientific were proud to announce a new partnership with Danish technology developer Life Science Robotics. Click here to read the news.
Life Science Robotics are specialists in creating robotic rehabilitation devices for the healthcare sector, developing the ROBERT® – an innovative therapy device for early and acute mobilisation. Using the ROBERT®, therapists perform the initial movement and then the device repeats this to deliver the desired frequency and intensity.
To find out more about the ROBERT® in the UK and how you can integrate healthcare robotic solutions into your clinical practice, please get in touch with the Summit Medical and Scientific team today.
Brand new to the UK, here are the 5 things you need to know about the ROBERT®.
1. ROBERT® is the only acute therapy device that can train upper and lower limb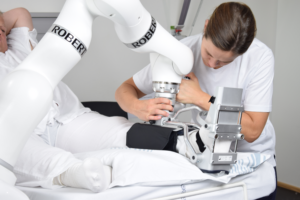 Did you know that ROBERT® can provide intensive therapy for both the upper and lower limb?
With separate modules for the upper and lower extremities, the ROBERT® is uniquely positioned to provide functional movement rehabilitation for all the clinical exercises a patient might need.
With ROBERT®, patients can receive unlimited training for intensive rehabilitation, while the therapists' heavy workload and physical strain is highly reduced.
2. ROBERT® has seven degrees of freedom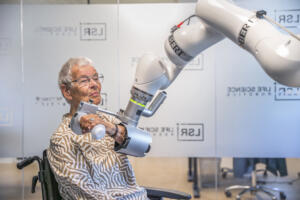 For patients, ROBERT® has complete freedom of movement which facilitates Activities of Daily Living and Proprioceptive Neuromuscular Facilitation training with real-life objects – without any limitations.
Therapists can use the ROBERT® to train either a specific movement and joint, or on complex movements using various joints.
3. ROBERT® has three training modes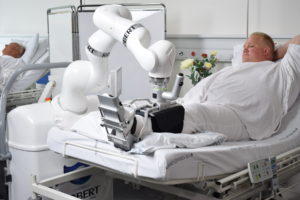 Active resistive mobilisation offers resistance against the patient's movement. The resistance level of the exercise is adjusted to the patient's functional strength.
Active assistive mobilisation assists the patient through the exercise. The patient's functional strength determines the level of activity during the exercise.
Passive mobilisation supports early mobilisation for severely impaired patients, who have a reduced level of function.
4. ROBERT® is completely portable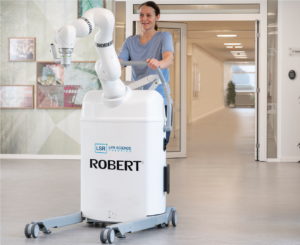 It's easy to move the ROBERT® from place to place, allowing therapists to transport the device throughout the clinic to each patient. Simply plug, attach, record and play using the intuitive interface.
Safe training can be completed in either a seated or in-bed position, so even completely immobile patients can benefit from upper and lower limb therapy.
With a user-friendly set up time of just three minutes, therapists can maximise the amount of therapy a patient receives in every session, resulting in more efficient and intensive therapy.
5. ROBERT® has an optional FES module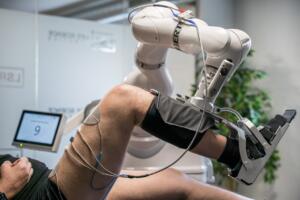 The Sensing and Stimulating (SAS) module is an additional functionality for the ROBERT®. Electromyography (EMG) triggered Functional Electrical Stimulation (FES) supports active mobilisation.
ROBERT® facilitates manually recorded movements, which are then paired with an easy electrode placement which allows for a targeted treatment in early rehabilitation.
Adaptation of support is intelligently identified by ROBERT® so that the patient is assisted as needed throughout their exercise.
About Summit Medical and Scientific
Summit Medical and Scientific are passionate about the power of rehabilitation technology.
We represent clinical technology leaders Hocoma, Motek and Life Science Robotics to provide the total solution for rehabilitation in the UK. Our partners have developed innovative therapy devices using robotics, sensors and virtual reality for early and acute rehabilitation, gait and balance therapy, arm and hand therapy, body weight support and more. Click here to view all our clinical solutions.
Get in touch with Summit Medical and Scientific today to find out more about incorporating state-of-the-art rehabilitation technology into your practice.
Contact us via email at info@summitmedsci.co.uk or call 01372 459863.
You can also follow us on Facebook, Twitter and LinkedIn, and subscribe to our newsletter for the latest updates.