University of Bolton fully trained to use new Motek C-Mill VR treadmill
Motek
This month the University of Bolton received training for their brand new C-Mill VR, which was delivered and installed by the Summit Medical and Scientific and Motek teams in October.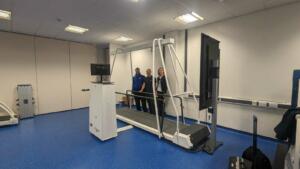 The C-Mill VR is an advanced augmented and virtual reality rehabilitation treadmill, developed by our partner Motek.
Now that the clinical team have received their training, they will be able to provide state-of-the-art rehabilitation and research for a wide range of patients, from neurological injury and stroke patients to sports rehabilitation and fall prevention.
Congratulations to the University of Bolton for their new equipment and we look forward to seeing your exciting work in the future!
About the C-Mill range
The C-Mill has been chosen by some of the UK's top rehabilitation and research facilities for its state-of-the-art gait and balance training capabilities, and in 2023 was named by the Stroke Rehab Times as one of the ten top stroke innovations bettering stroke and rehabilitation.
There are four variations of the C-Mill which can feature:
Virtual reality
Augmented reality
Instrumented force-measuring treadmill
Body weight support
Safety harness and handrails
Accessible ramp for wheelchair users
Adjustable pitch for uphill walking
Fun and intensive games and exercises
The C-Mill treadmill is ideal for adult, geriatric and paediatric patients requiring rehabilitation for any condition affecting their gait, balance or stability, and for fall prevention. This includes neurological conditions like stroke, and also lower limb amputees, spinal injury, traumatic brain injury, Parkinson's Disease, movement disorders, and cerebral palsy.
About Summit Medical and Scientific
Summit Medical and Scientific are passionate about the power of rehabilitation technology. We represent clinical technology leaders Hocoma and Motek to provide the total solution for rehabilitation in the UK. Our partners have developed innovative therapy devices using robotics, sensors and virtual reality for early and acute rehabilitation, gait and balance therapy, arm and hand therapy, body weight support and more.
You can view all of our clinical solutions here.
Get in touch with Summit Medical and Scientific today to find out more about incorporating state-of-the-art rehabilitation technology into your practice. Contact us via email at info@summitmedsci.co.uk or call 01372 459863.
You can also follow us on Facebook, Twitter and LinkedIn, and subscribe to our newsletter for the latest updates.