Neuro rehab specialist Neural Pathways launches The Neuro Hub
News
The award-winning neurological rehabilitation team at Neural Pathways have launched their brand new facility today, called The Neuro Hub.
The official opening of The Neuro Hub will include hands-on sessions with the rehabilitation technology they have to offer, including their newly installed Motek C-Mill VR treadmill.
The C-Mill VR is an innovative single-belt treadmill for the evaluation and training of impaired gait and balance. Using augmented reality (AR), virtual reality (VR), acoustic cues and force plate technology, the C-Mill VR is the ideal solution for effective functional movement therapy. The C-Mill VR is suitable for paediatric, adult and geriatric patients requiring rehabilitation for any condition affecting gait, balance or stability. This includes fall prevention, stroke, brain injury, spinal injury, lower limb amputees, Parkinson's Disease, movement disorders, cerebral palsy, and other neurological conditions.
This particular C-Mill VR model features an instrumented treadmill, augmented reality projections on the treadmill belt, a virtual reality screen, a safety harness, handrails, and a full suite of gait and balance applications. You can read more about the C-Mill VR on its product page.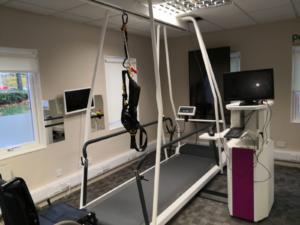 The launch of The Neuro Hub follows one of Neural Pathways' Innovations in Neuro Rehab Seminars, featuring expert talks such as "Pushing the Boundaries: the Case for Intensive Exercise" by Glyn Blakey, Specialist Neuro Physiotherapist and MD of Saebo UK Ltd.
Neural Pathways trialled the Hocoma ArmeoSenso upper limb rehabilitation device with their own patients earlier this year, read more.
About The Neuro Hub
The Neuro Hub is a unique and specialist neurological rehabilitation space that aspires to transform the landscape of community rehabilitation for those who use it. The hub offers specialised occupational therapy services for clients with a range of neurological conditions. Using hands-on, evidence-based treatment techniques and the latest technologies, The Neuro Hub's occupational therapists provide a comprehensive treatment approach that addresses the physical, emotional, and psychological components of clients and family members. The team at The Neuro Hub are dedicated to helping each client achieve the highest level of independence possible in their daily lives. Read more on The Neuro Hub website.
About Neural Pathways
Neural Pathways is an independent, family-grown business based in the North East providing life changing therapy rehabilitation for people of all ages with complex neurological needs. Read more on their website. 
About Hocoma
Hocoma is the global market leader for the development, manufacturing and marketing of robotic and sensor-based devices for functional movement therapy. Find out more about Hocoma and their products here. You can read more about Summit Medical and Scientific's recent partnership with Hocoma here.