RYSEN transforms postural control and motor function for Parkinson's patients
Motek
A recent research paper published by IRCCS Centro Neurolesi "Bonino-Pulejo", Italy, explores whether patients with Parkinson's Disease benefit from dynamic body weight support.
This is a pilot study on the emerging role of the RYSEN, the 3D body weight support system from our partner Motek.
Click here to read the full article on mdpi.com.
Parkinson's Disease is a neurodegenerative disorder characterised by motor and non-motor alterations. Typical motor symptoms include resting tremors, bradykinesia (hypokinesia or akinesia), muscular stiffness, gait alterations, and postural instability. In this context, neurorehabilitation may have a pivotal role in slowing the progression of Parkinson's Disease, using both conventional and innovative rehabilitation approaches.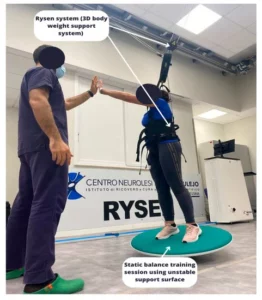 Thirty patients (15 males and 15 females) affected by Parkinson's Disease were enrolled in the study. The study randomly divided the patients into two groups, an experimental group (EG) and a control group (CG). In particular, the EG performed gait and balance training using the RYSEN system, which is an innovative body weight support (BWS) system, whilst the CG received conventional physiotherapy. Both groups underwent 20 sessions, five times weekly, with each session lasting about 40 min.
At the end of the training sessions (T1), it was found that both groups (EG and CG) achieved clinical improvements, although the EG showed better scores for post-treatment regarding global motor functioning and postural stability compared to the CG.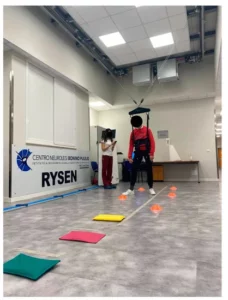 In conclusion, the results suggest that the RYSEN system, which is an innovative BWS tool, could be considered a valid device for improving postural control and global motor functions, when compared to conventional gait training, in patients affected by Parkinson's Disease.
About the RYSEN
The RYSEN is the next generation of 3D body weight support.
Developed by Motek, the RYSEN supports patients in an all-directional, assist as-needed capacity to improve movement function. The RYSEN offers therapists and patients the opportunity to train movement, gait and balance in an unrestricted and safe environment, both for clinical and research purposes.
Its technology combines adjustable vertical body weight support with horizontal and vertical assistive forces, maximising a patient's freedom of movement, engagement, and recovery results.
Click here to view the RYSEN product page.
Contact us
Get in touch with Summit Medical and Scientific today to find out more about incorporating state-of-the-art rehabilitation technology like the RYSEN into your clinical practice or upcoming research project. Contact us via email at info@summitmedsci.co.uk or call 01372 3459863.
You can also follow us on Facebook, Twitter and LinkedIn, and subscribe to our newsletter for the latest updates.
Want to view all of our clinical rehabilitation technology? View all our solutions here.