Hocoma Lokomat
Relearn how to walk from the very beginning.
The Lokomat, developed by Hocoma, is a robotic-assisted therapy device for highly intensive physiological gait rehabilitation for severely impaired patients.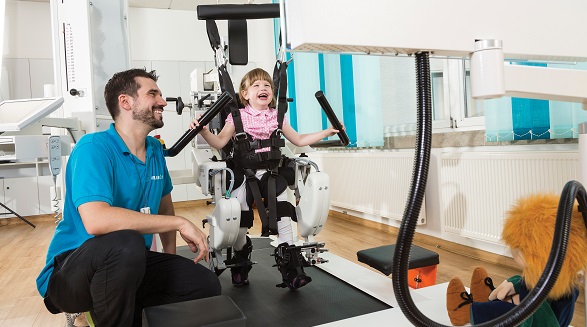 Adult and paediatric therapy
The Lokomat is suitable for adult and paediatric patients, and can be used to treat a wide range of conditions including:
Stroke

Traumatic brain injury (TBI)
Spinal cord injury (SCI)
Cerebral palsy
Multiple sclerosis
Parkinson's disease
Endoprosthesis (e.g. joint replacements)
Degenerative joint diseases of the lower limbs (e.g. knee osteoarthritis)
Spinal muscular atrophy
Muscle weakness due to lack of mobility
Cardiac conditions (if permitted by treating physician)
Amputees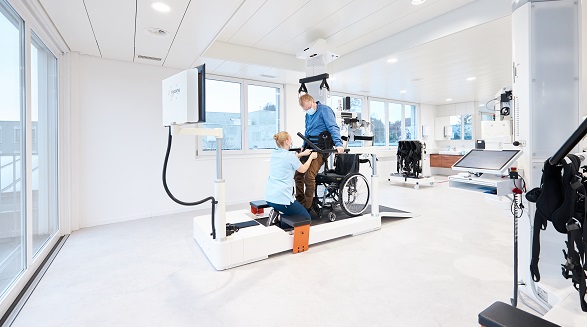 State-of-the-art gait rehabilitation
The Lokomat uses an individually adjustable exoskeleton combined with dynamic body weight support, with adjustable hip and knee joint angles to tailor the device to a patient's specific needs during training. Customisable and versatile, the Lokomat can train a wide range of patients to develop a healthy physiological gait pattern – even those with severe disabilities.
The Lokomat allows therapists to focus on the patient and their therapy, rather than be limited by the strain of traditional gait therapy. It enhances staff efficiency and safety, which leads to higher training intensity, more treatments per therapist, and consistent, superior patient care.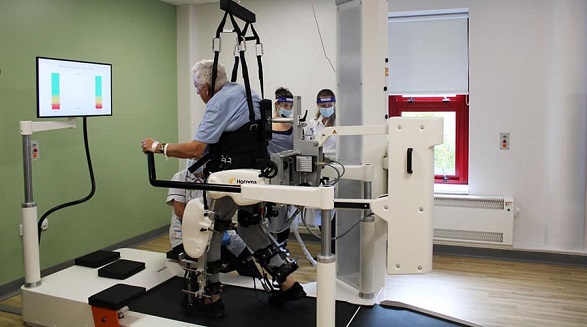 Electromechanical gait training in the NHS
"We should be looking at how we can enhance rehabilitation with robotics, and deliver rehabilitation that is enabled by technology as much as possible." – Dr Louise Johnson, University Hospitals Dorset.
The NHS University Hospitals Dorset are already implementing the National Clinical Guideline for Stroke recommendations to provide electromechanical-assisted gait training for their stroke patients.
Royal Bournemouth Hospital's Acute Stroke Unit fundraised to purchase a LokomatPro electromechanical gait trainer for their acute stroke patients back in 2021. Read why – and how – they did it on the Stroke Rehab Times: Part 1; Part 2 and Part 3.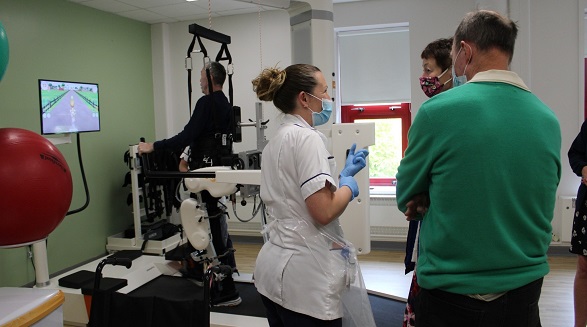 "The evidence around robotic gait training is strongest for people who are more impaired after stroke, and who are in the early phase after stroke. That's exactly the group of patients that we see on our units, day in and day out. These patients are hard to deliver good rehab to because it's difficult and resource-intensive to achieve intensity with patients who are really impaired.
So it seemed like a really good fit and a really good solution to a challenge we have in our day-to-day clinical practice.
… I can't imagine being without [the Lokomat] now. You can't imagine going back to what you did before, but you don't know that until you've had the opportunity to use it." – Dr Louise Johnson, University Hospitals Dorset.
Lokomat Configurations
There are three different types of Lokomat.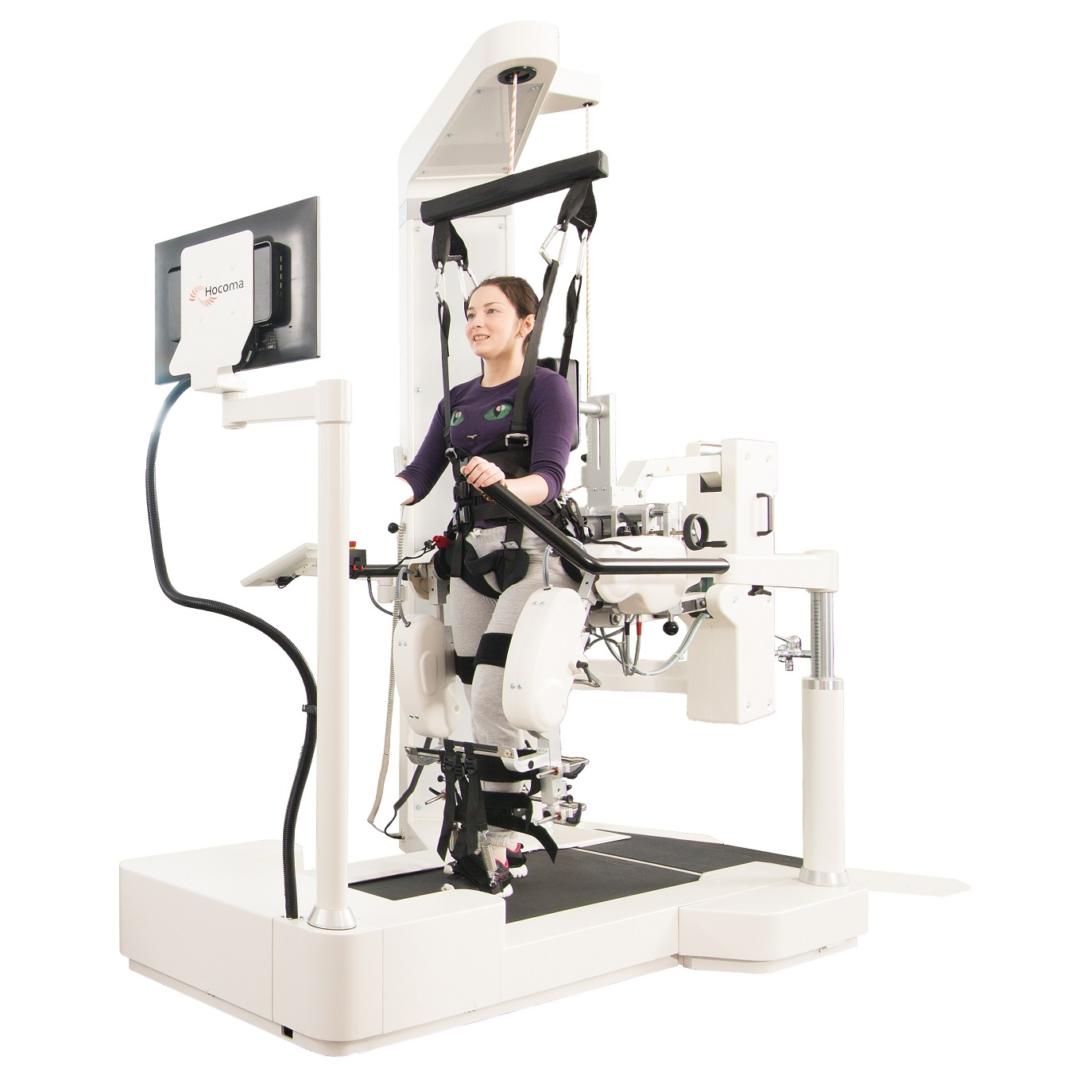 LokomatNanos
Featuring dynamic body weight support, adjustable robotic gait orthoses, treadmill, an intuitive user interface and basic biofeedback.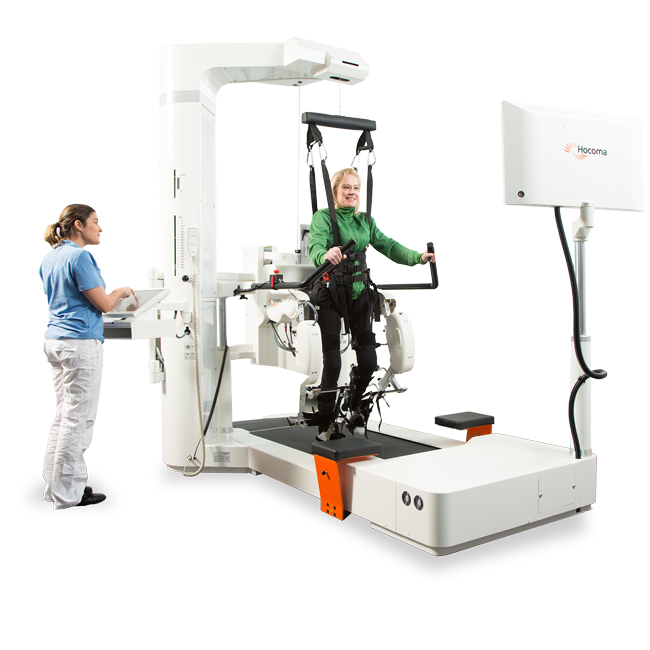 LokomatPro
Featuring dynamic body weight support, adjustable robotic gait orthoses, treadmill, an intuitive user interface, PLUS Augmented Performance Feedback, optional FreeD Pelvic Movement, and optional paediatric orthoses.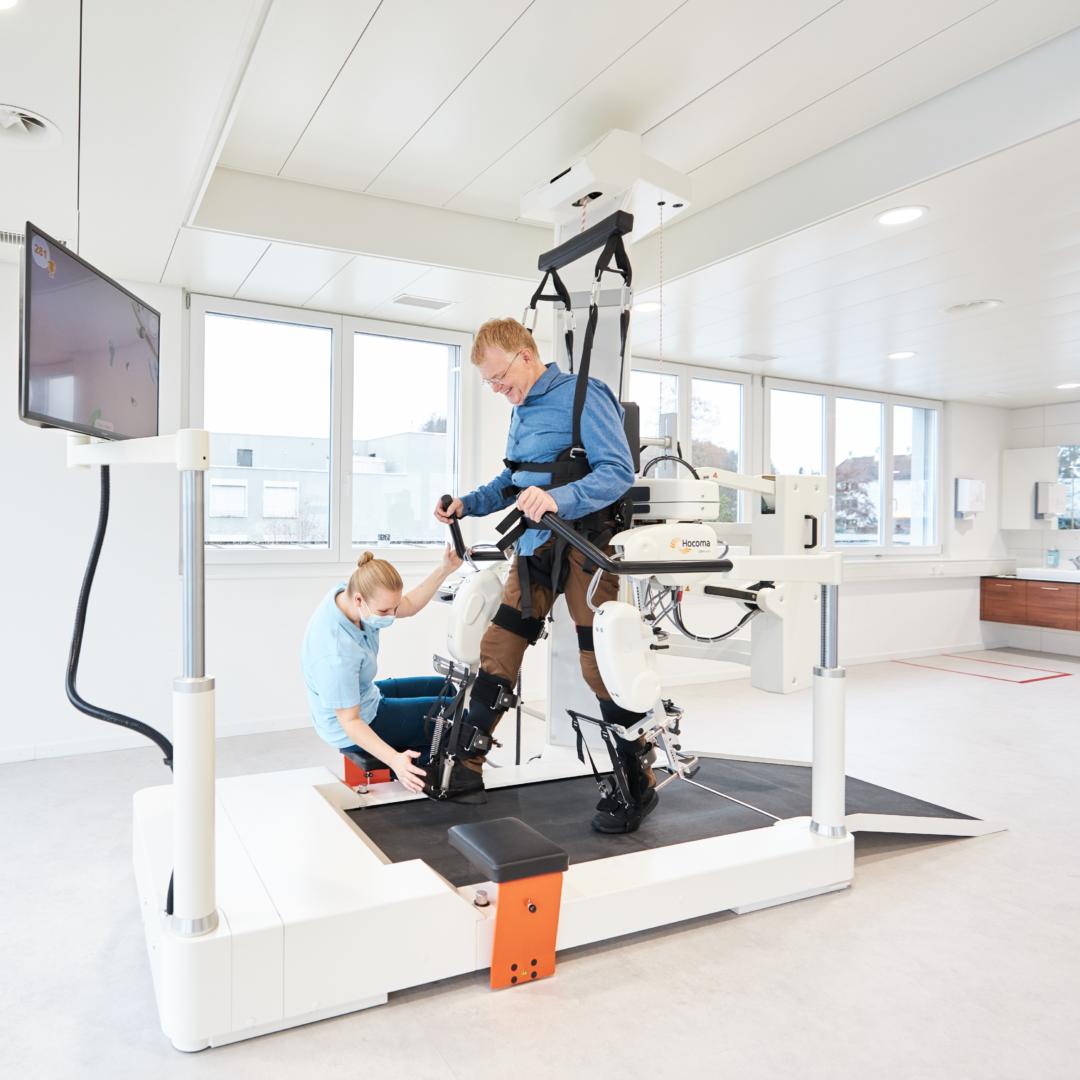 LokomatPro Sensation
NEW! Featuring dynamic body weight support, adjustable robotic gait orthoses, treadmill, an intuitive user interface, PLUS Augmented Performance Feedback, optional FreeD Pelvic Movement, optional paediatric orthoses, PLUS adaptive gait support, music and audio feedback, games and personalised training.
NEW: LokomatPro Sensation
With the LokomatPro Sensation, the therapy plan can be created more individually than ever before.
The therapist can truly customise each individual session to each individual patient's needs and interests with a more varied library of games and exercises. Offering even more options within therapy goals provides a continuously motivating and engaging intensive gait training.
Feel intelligent algorithms to create maximum patient challenge and allow patients to feel their performance. Hear music synched with therapy to boost motivation and engagement. See personalised training, progression and results in a wide catalogue of exercises.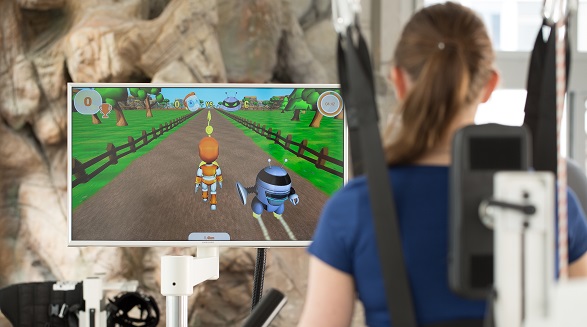 Challenging your patients
During rehabilitation, patients need to be challenged beyond their individual capabilities. This is where the Lokomat can truly benefit your patients. Speed, loading and robotic support can be adjusted to optimally shape the intensity of the therapy, and patients are motivated to reach their goals with various game-like exercises. Their level of activity influences the performance of the task, the gait pattern and the speed.
The Lokomat provides a natural plantar pressure distribution, sensory feedback and physiological vertical displacement during the complete gait cycle. This Augmented Performance Feedback (APF) maximises the effect of gait training. Studies have shown when using APF, muscle activation and cardiovascular exertion can be considerably increased.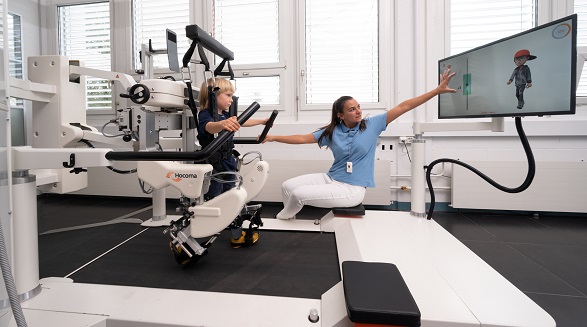 Paediatric orthoses available
The LokomatPro and LokomatPro Sensation can be fitted with standard orthoses for adults or with paediatric orthoses, which are available as an optional module. This enables gait training for young patients.
The paediatric orthoses are designed to accommodate small children by offering a special set of harnesses and cuffs that provide a precise fit for patients with femurs between 21 and 35 cm (8.3 – 13.8 in.). The two interchangeable sets of orthoses can be easily swapped out by the therapist for a versatile rehabilitation solution, and both offer the same wide range of therapy benefits.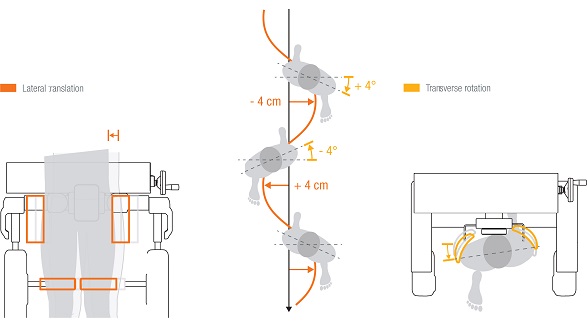 Lateral freedom
The optional FreeD Module with the LokomatPro and LokomatPro Sensation improves therapy by allowing for lateral translation and transverse rotation of the pelvis.
The patient's ability to shift their weight completely over their stance leg, and thereby activate their core muscles and experience balance aspects, is crucial in relearning to walk independently.
Available for adult and paediatric orthoses.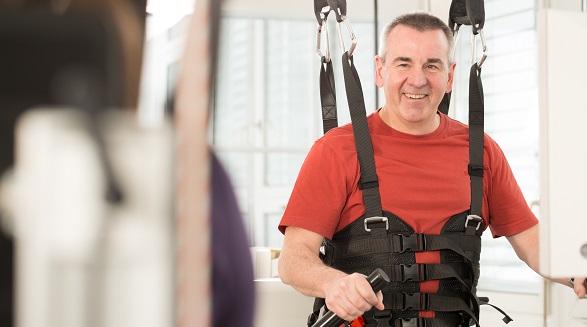 Case studies and research
Lokomat therapy is backed up by 20 years of clinical research, and is the best investigated device in robot assisted gait rehabilitation today.
More than 400 studies have been published on Lokomat therapy in peer-reviewed journals, so visit www.knowledge.hocoma.com to read more.
Christina's Story
Christina found herself unable to walk after emergency surgery related to her Multiple Sclerosis.
"If I want to walk again, I have to get back on my feet as fast as possible."
Using the Lokomat helped her steadily improve, feel positive, and walk tall again.
Today Christina can drive a car and can walk about 30 meters with a rollator.
The Hocoma total solution: the entire therapy continuum
From acute inpatient care to outpatient rehabilitation.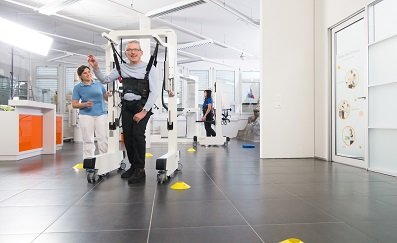 Andago
The Andago is the world's first free-moving mobile gait robot, combined with a body weight support system.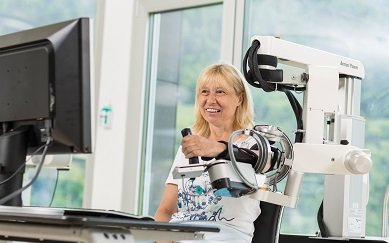 Armeo
The Armeo range enables patients to practise and repeat movements for upper limb rehabilitation. Including the ArmeoSpring and ArmeoPower.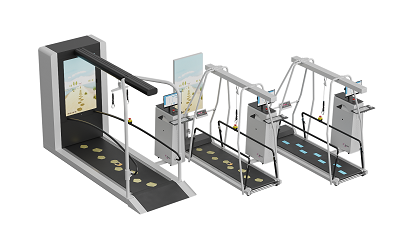 C-Mill by Motek
The C-Mill is an augmented and virtual reality instrumented single belt treadmill, used for the evaluation and training of impaired gait and balance.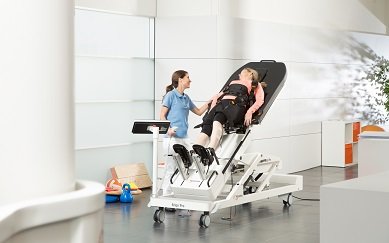 Erigo
The Erigo combines gradual verticalisation with robotic movement therapy, using robotic leg movement in a safe tilt table-style system.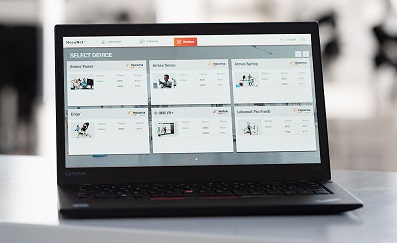 HocoNet®
The all-new software platform, connecting all of Hocoma's portfolio across the entire continuum of care.