Hocoma Armeo
The Hocoma Armeo Therapy Concept range is a robotic and sensor-based set of devices for patients with hand and/or arm functional movement impairment. This can be a result of conditions such as stroke, traumatic brain injury, or neurological disorder. Download the Armeo brochure here. 
There are different versions of the Armeo which address different stages in a patient's recovery: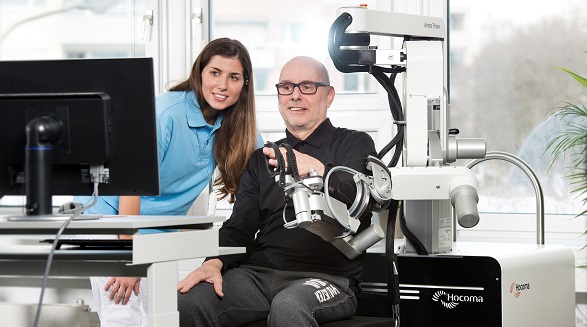 Acute inpatient to outpatient therapy
The Armeo range of products address different patient and therapeutic needs across the stages of rehabilitation, from acute rehabilitation to final outpatient therapy sessions.
Even severely impaired patients can practise independently without the constant presence of a therapist, as exercises are self-initiated, self-directed, challenging and motivational.
The devices range in the amount of support they provide for patients, from high levels of arm weight support to completely unassisted.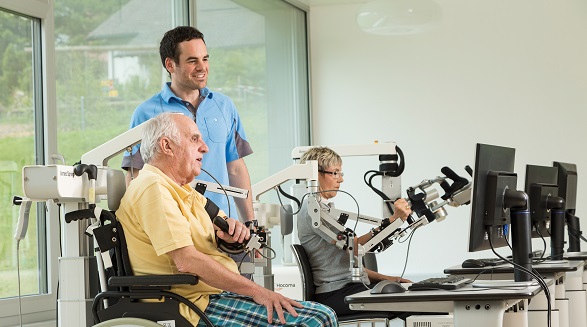 Neural plasticity
Research suggests that the neural plasticity of the brain is retained after an injury, and now connections can be made through intensive, repetitive, task-oriented movements. These exercises allow the restoration of movement and functionality and motivates patients throughout their rehabilitation process.
The Armeo enables patients to practise and repeat movements with their hands and/or arms to support their recovery and restore their movement.
Augmented Performance Feedback
Feedback and results are provided by Augmented Performance Feedback, which is a shared software platform that encourages and motivates patients to achieve a higher number of repetitions. This will lead to better, quicker results, increased efficiency, and improved long-term outcomes.
The game-like software also provides automatic, ongoing assessment of motor functions and patients can easily track their progress, which helps them to take their training into their own hands and reach their therapy goals. These programs have been designed to train core movement patterns which are commonly used in daily life activities.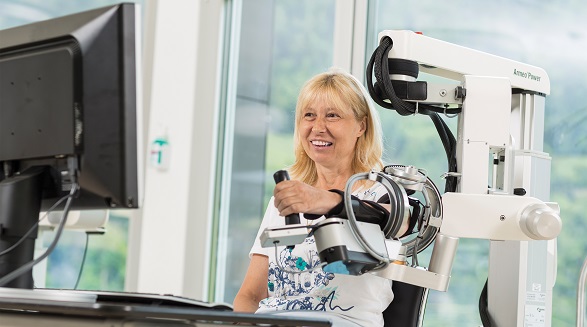 The ArmeoPower is a highly advanced arm and hand rehabilitation device for early-stage patients, even before they develop active movement. It is the world's first robotic exoskeleton for integrated arm and hand therapy for severely impaired patients, and is ideal for the initial stages of rehabilitation.
The device enables patients to perform exercises with a high number of repetitions for an intensive training session, which is necessary for relearning motor function. It uses sensors and algorithms to recognise when a patient isn't able to complete a movement, and will assist the patient's arm or hand as much as necessary to successfully reach the goal of the exercise. It will automatically adapt movement guidance to the individual needs of each patient, and the six actuated degrees of freedom allow training in an extensive 3D workspace.
ArmeoPower with ManovoPower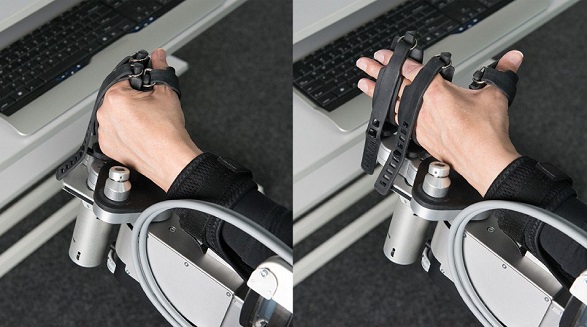 Hand function training is optional with the ArmeoPower for patients who need to relearn hand opening and closing, reaching and grasping, using the ManovoPower.
The ManovoPower is an actuated hand module that enables severely impaired patients to relearn hand opening and closing. It has been designed to train grasping and reaching, with assist-as-needed support from shoulders to fingers. A range of game-like exercises will motivate and encourage your patients to work harder for longer.
Hocoma have just launched the latest development in upper limb rehabilitation technology – the ArmeoSpring Pro.
The ArmeoSpring Pro's customisable arm weight support, powered by patented TrueG technology, allows patients to receive precise arm weight support from shoulder extension to shoulder flexion. Patients perform a high number of repetitions of grasp and reach movements, taking their therapy to the next level.
Customisable exoskeleton from paediatric patients to adult. The ArmeoSpring Pro enables training of the entire movement chain from the shoulder to the hand. It's exoskeleton facilitates personalised therapy by allowing therapists to block specific joints and focus on selective movements.
Motivating exercises. Game-like Augmented Performance Feedback and Virtual Reality exercises motivate to train actively core movement patterns that are commonly used in activities of daily living.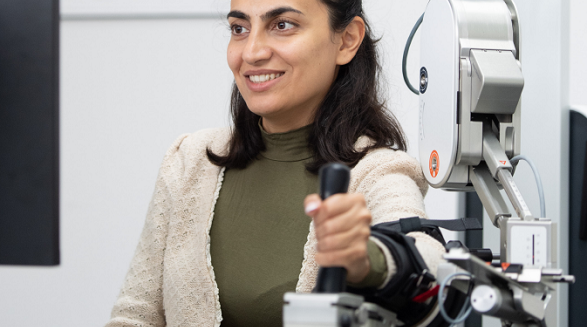 Increased efficiency. The ArmeoSpring Pro facilitates increased therapy efficiency by reducing the therapist's physical effort and the need for continuous therapeutic guidance.
One device to support various therapy goals. ArmeoControl allows therapists to create a therapy plan tailored to the patients' therapy goals. Therapy goals include cognitive training, increase range of motion in 1D, 2D, or 3D and further.
Making patient progress visible. The reports provided by ArmeoSpring Pro include patient's performance during the joint ROM and reaching workspace assessments. The reports allow tracking patient's progress over time.
Armeo support harness. The ArmeoSpring Pro comes with the Armeo Support Harness intended to restrict compensatory trunk movements during the therapy.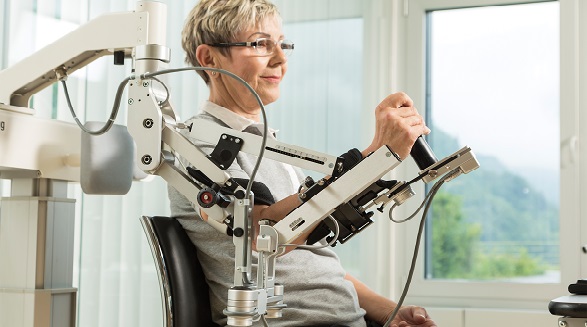 The ArmeoSpring allows simultaneous arm and hand training in an extensive 3D workspace with six degrees of freedom. This enables patients to practice the movements that are key for their therapy progress and daily life.
The ArmeoSpring features an adjustable exoskeleton which supports the whole arm, from shoulder to hand, and counterbalances the weight of the patient's arm. By providing arm weight support, the ArmeoSpring enables patients to use any remaining motor functions and encourages them to achieve a higher number of reach and grasp movements based on specific therapy goals. The activities are based on the patient's own movements, and built-in sensors record the active movements and all joint angles during the therapy session.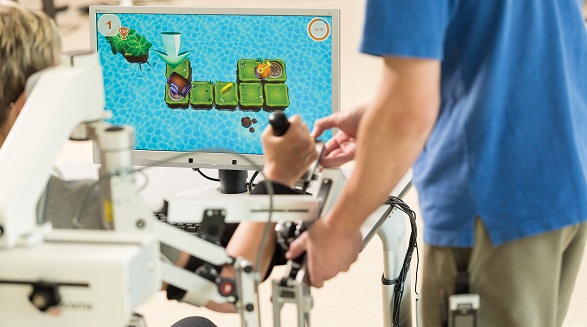 The ArmeoSpring enables therapists to deliver higher training efficiency (more hours per day) thanks to self-directed therapy, which may lead to better long-term outcomes. This is possible by reducing the need for continuous therapeutic guidance, thus giving therapists the possibility to supervise more than one patient at a time.
We are now offering clinical trials where you can try out the ArmeoSpring with your own patients. Read more here.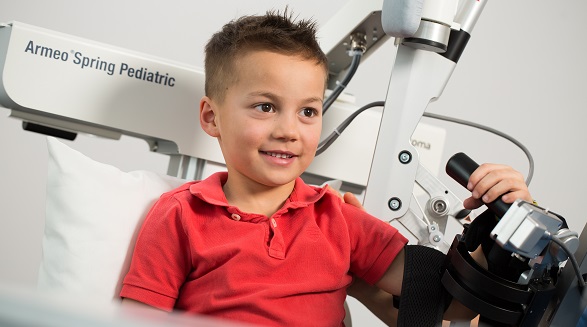 The ArmeoSpring can also be supplied in a size that is suitable for children. The ergonomic exoskeleton is still customisable for each patient and will provide the same level of support and training as the full-size model.
This means that paediatric patients who require therapy for hand and arm movements can still use the ArmeoSpring and see the same excellent results, as well as use game-like software which is great for motivating and engaging children.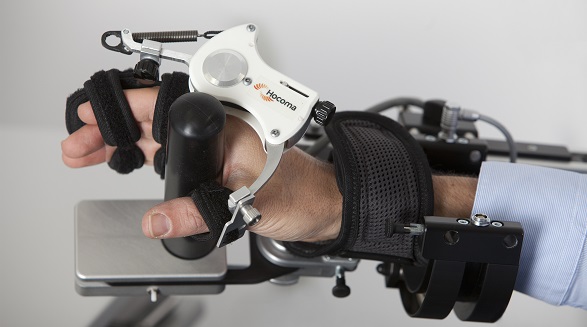 The ManovoSpring is an instrumented hand orthosis which can be used in combination with the ArmeoSpring for patients who are focusing on hand rehabilitation in their therapy. The ManovoSpring features a spring mechanism for adjustable hand opening support that can be used as a real-time input device to the same software as the ArmeoSpring. This has been designed to train grasping function for patients with impaired hand functions due to strokes, traumatic brain injuries or other neurological disorders.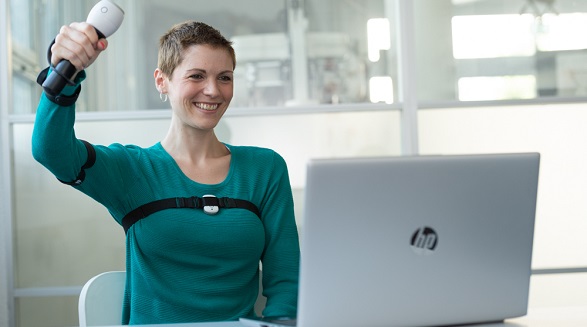 The ArmeoSenso offers highly intensive arm therapy for mild to moderate impairment, using sensors and Augmented Performance Feedback to train upper limb function and train gripping function.
Sensors in the hand module, and attached to the wrist, upper arm and chest, allow the patient to interact with game-like exercises whilst tracking their movement in a 3D workspace, providing immediate feedback and reports.
Patients are motivated to engage with their exercises for self-initiated and self-directed therapy with minimal supervision required, and unwanted compensatory movements are detected by the sensors to ensure patients complete their therapy in a physiologically correct way.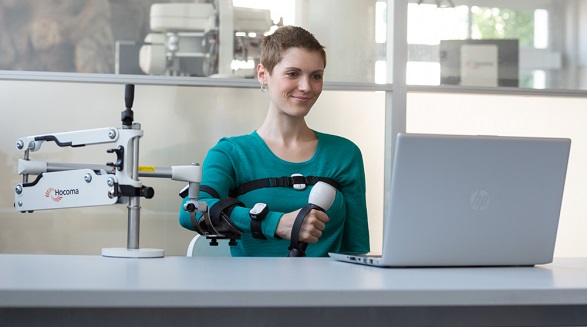 Optional arm weight support
The ArmeoSenso is compatible with additional devices to provide extra support for your patients.
Optional arm weight support, provided by the SaeboMAS mini, provides adjustable arm weight support and functional assistance during the exercises.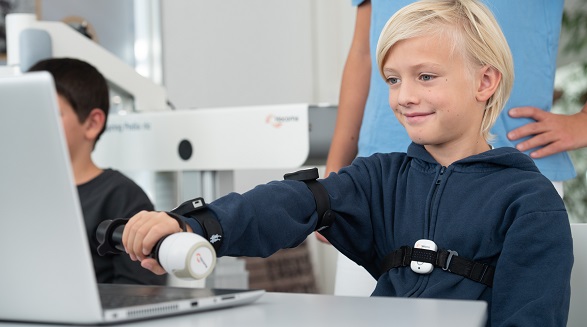 The ArmeoSenso is also suitable for paediatric patients, with no special hardware or attachments required.
This means that paediatric patients with mild to moderate impairment can access the highly intensive arm therapy by using the ArmeoSenso.
Patients can use the game-like software which is ideal for motivating and engaging children. Multiple devices can be used in a group clinical setting, or one-on-one with the therapist.
The Hocoma total solution: the entire therapy continuum
From acute inpatient care to outpatient rehabilitation.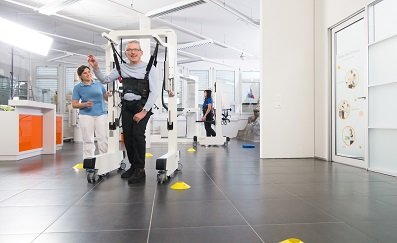 Andago
The Andago is the world's first free-moving mobile gait robot, combined with a body weight support system.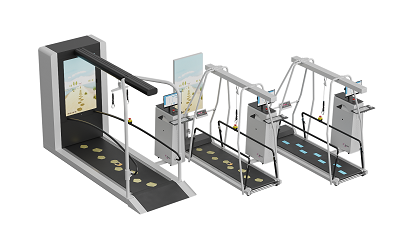 C-Mill by Motek
The C-Mill is an augmented and virtual reality instrumented single belt treadmill, used for the evaluation and training of impaired gait and balance.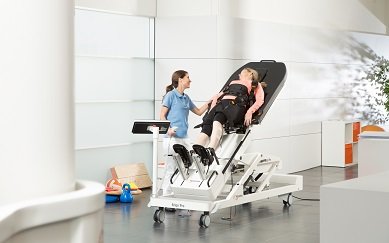 Erigo
The Erigo combines gradual verticalisation with robotic movement therapy, using robotic leg movement in a safe tilt table-style system.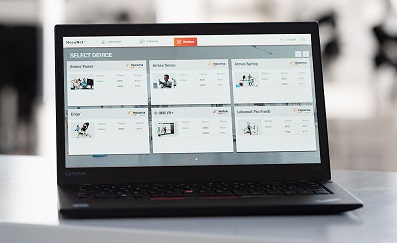 HocoNet®
The all-new software platform, connecting all of Hocoma's portfolio across the entire continuum of care.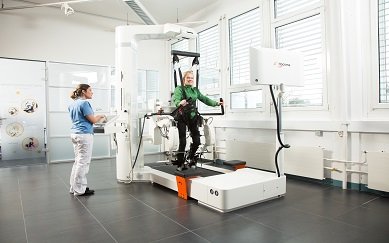 Lokomat
Relearn how to walk from the beginning with the Lokomat, a robotic-assisted therapy solution that enables intensive gait training.