Hocoma Andago
The Andago is the world's first free-moving mobile gait robotic device developed by Hocoma, which has been combined with a body weight support system. The Andago provides intensive, efficient and versatile gait therapy, and bridges the gap between treadmill-based gait analysis and the patient's ability to walk freely and unaided. The mobile robotic technology senses the patient's movement and actively follows them, while also providing dynamic and safe body weight support.
The Andago is suitable for patients requiring rehabilitation for any condition affecting their gait, balance or stability, and for fall prevention. This includes neurological conditions, lower limb amputees, spinal injury, traumatic brain injury, stroke, Parkinson's Disease, movement disorders, and cerebral palsy.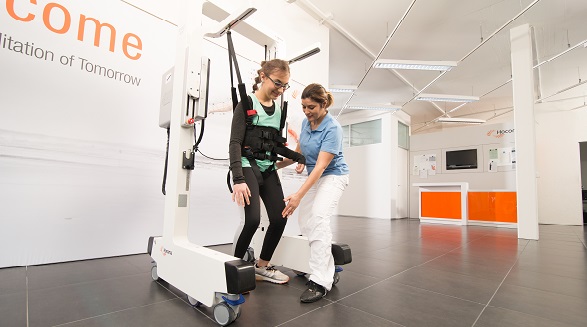 Empowering patients and therapists
The Andago removes the restraints of traditional gait therapy, which means that therapists aren't exposed to physical strain. Clinicians can focus on delivering high-quality rehabilitation rather than the security and stability of their patient.
Using the Andago's flexible body weight support system allows your patient to move without the fear of falling, becoming unstable, or getting injured. The Andago will allow them to move freely, hands-free and upright, within a safe environment. As the therapist, you can take a step back and assess their movement, providing feedback and monitoring their progress throughout gait, balance and stability tasks.
The Andago in your clinic
The Andago will integrate seamlessly within your available space:
Shorter than a standard door frame.
Includes a patient lift for transfer to and from a wheelchair.
Has optional attachable handrails.
Includes collision detectors.
Can be set to a straight-line mode, controlled by the therapist, or follow the patient as they freely walk around.
Download the Andago brochure here.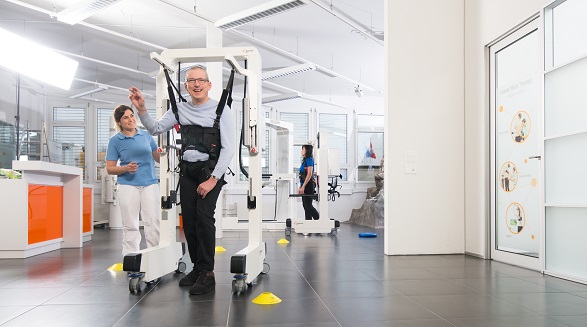 Clinical trials
We are pleased to offer clinical trials for the Hocoma Andago in the UK.
If you would like to trial this device with your own patients, contact us as we have systems ready to be installed at your clinic for a month period.
The Hocoma total solution: the entire therapy continuum
From acute inpatient care to outpatient rehabilitation.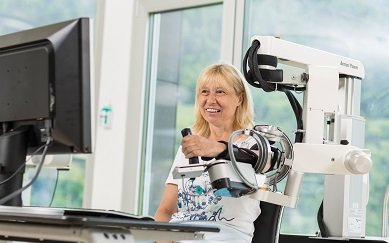 Armeo
The Armeo is a robotic exoskeleton which enables patients to practise and repeat movements with their hands and arms to aid rehabilitation.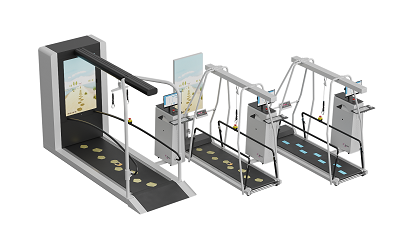 C-Mill by Motek
The C-Mill is an augmented and virtual reality instrumented single belt treadmill, used for the evaluation and training of impaired gait and balance.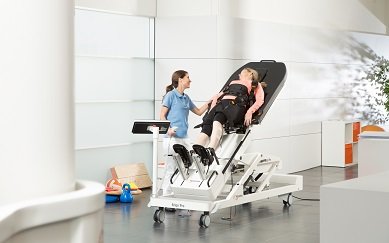 Erigo
The Erigo combines gradual verticalisation with robotic movement therapy, using robotic leg movement in a safe tilt table-style system.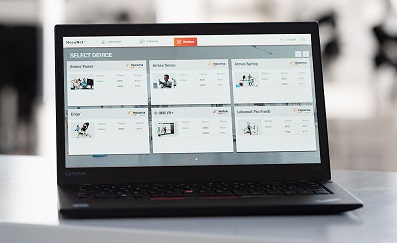 HocoNet®
The all-new software platform, connecting all of Hocoma's portfolio across the entire continuum of care.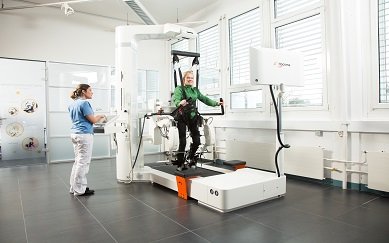 Lokomat
Relearn how to walk from the beginning with the Lokomat, a robotic-assisted therapy solution that enables intensive gait training.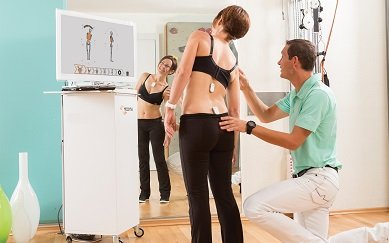 Valedo
Fight back pain by playing games using the Valedo, a medical sensor device for digital back therapy in the clinic.