NHS Walton Centre Charity successfully fundraises for Hocoma ErigoPro
Hocoma
Summit Medical and Scientific are delighted to share that the Walton Centre NHS Foundation Trust has become the first NHS hospital in the UK to purchase the ErigoPro, after a successful fundraising campaign by the Walton Centre Charity.
Funds were raised by existing and former patients of the specialist Trust's hyperacute rehabilitation unit and their families.
Addressing the acute recovery phase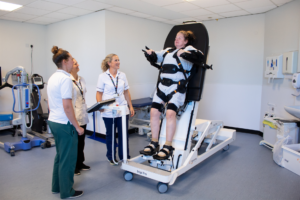 Installed by the Summit Medical and Scientific team in July 2023, the ErigoPro will be used by patients in the Complex Rehabilitation Unit.
The Complex Rehabilitation Unit addresses the acute phase of recovery by meeting the needs of people who are medically stable yet have complex rehabilitation needs.
The Walton Centre are the latest NHS hospital that Summit Medical and Scientific have supplied advanced rehabilitation technology to, and will be at the forefront of providing the earliest possible rehabilitation with safe verticalisation, mobilisation and intense therapy.
The ErigoPro, developed by Swiss rehabilitation technology company Hocoma, is a state-of-the-art robotic tilt table which allows early and safe mobilisation for patients – even those in acute care. The ErigoPro combines functional mobilisation with robotic leg movement, cyclic leg loading, and Functional Electrical Stimulation (FES).
The ErigoPro gradually and safely moves a patient to an upright or standing position, moving their legs and stimulating their muscles and central nervous system. All of this is achieved without any risk of physical strain or injury for therapists.
Providing the best treatment available
Emily Low, Clinical Specialist Rehab Physiotherapist at the Walton Centre, said:
"Our patients on the high acute rehab unit have some of the most complex presentations; physically and cognitively, typically spending much of their time in bed, or being dependent on a wheelchair/specialist seating for when they do sit out of bed. Our patients and relatives have identified that getting out of bed and standing up in the early stages of their rehab is important, relevant, and meaningful for them. We have seen that standing positively impacts their mood and engagement in therapy sessions, and that carries over to their day-to-day activity, like joining in with personal care and bed mobility.

Previously because these patients are so profoundly physically impaired, and sometimes still locked into a prolonged disorder of consciousness, this type of combined therapeutic stimulation has been very difficult to replicate.

By having the ErigoPro, we are thrilled to be able to offer a combination of physiotherapy interventions. The ErigoPro allows us to control the postural tilt angle and loading through the body and allowing for robotic movement at the legs to replicate a walking motion.

We are also looking forward to utilising the ErigoPro for further research into early rehabilitation in traumatic brain injury and with the minimally conscious patient. Ultimately, we are committed to provide this small but very complex group of patients the best treatment available and I can't thank all the fundraisers enough for supporting this campaign."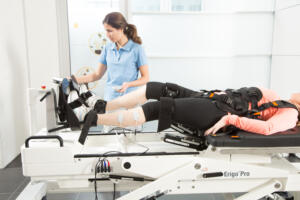 Sara Brammall, Managing Director at Summit Medical and Scientific, said:
"Congratulations to the therapy team at the Walton Centre for their exciting new piece of rehabilitation technology. The ErigoPro will help in the recovery of patients in the Complex Rehabilitation Unit, and the hard-working therapists who strive to deliver the best care for these patients. We look forward to seeing how patients progress and improve using the equipment, and we're proud to play a small part in that journey."
Slavko Škafar, Senior Vice President of Sales EMEA at DIH, said:
"We are immensely proud that ErigoPro has now become a part of the comprehensive offerings at the Walton Centre's Complex Rehabilitation Unit. This integration marks a significant milestone as it introduces innovative treatment possibilities for patients and provides valuable support to therapists in their daily efforts to enhance patients' recovery during the acute phase. Congratulations to the Walton Centre's team on this new addition, and we are looking forward to witnessing the impact it will have on patient care."
How does the ErigoPro help patients?
Being bedridden without the opportunity for intensive rehabilitation can lead to muscle weakness, cardiovascular instability, and loss of limb function.
The ErigoPro mobilises patients with reduced or no ambulation ability and/or reduced transfer and standing abilities. This is ideal for services that need to provide the earliest possible rehabilitation to help patients begin regaining as much function as possible and enhance their quality of life.
Verticalisation and mobilisation with the ErigoPro increases lower limb muscle strength, state of consciousness, and functional independence in activities of daily living. Verticalisation also helps patients to progress to the next stage of their rehabilitation. Patients can't progress to standing and walking if they are unable to tolerate being upright.  The ErigoPro is the vital link between patients who are unable to move and patients who are ready to learn how to walk.
How does the ErigoPro help therapists?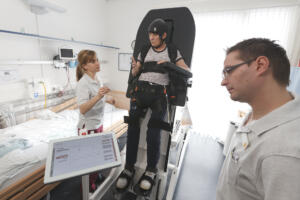 The ErigoPro allows a single therapist to adapt therapy parameters on a user interface to customise therapy and address specific patient needs. All training parameters, such as inclination angle, stepping frequency, robotic guidance and leg loading, are registered and reported.
Safely moving immobile patients is physically demanding, challenging, and time-consuming. The ErigoPro gets patients gradually accustomed to being upright and moving again in a safe and controlled environment, reducing the strain on the therapist and providing more effective and efficient therapy for patients.
Patients can spend more time in therapy and much earlier in their rehabilitation journey while using the ErigoPro compared to conventional therapy.  As well as contributing to better outcomes, this can save money and resources.
The ErigoPro has been designed to move between patient rooms to deliver robotic therapy directly at the bedside for patients who are immobile or have reduced transfer or standing abilities. The device has height adjustment for easier patient transfer from the bed or wheelchair, and a flexible patient harness for a safe, secure and comfortable fit.
How can I find out more?
Summit Medical and Scientific are passionate about the power of rehabilitation technology. We represent clinical technology leaders Hocoma and Motek to provide the total solution for rehabilitation in the UK. Our partners have developed innovative therapy devices using robotics, sensors and virtual reality for early and acute rehabilitation, gait and balance therapy, arm and hand therapy, body weight support and more.
Get in touch with Summit Medical and Scientific today to find out more about incorporating state-of-the-art rehabilitation technology into your practice. Contact us via email at info@summitmedsci.co.uk or call 01372 459863.
You can also follow us on Facebook, Twitter and LinkedIn, and subscribe to our newsletter for the latest updates.
Want to see all of our rehabilitation technology? View all our clinical rehabilitation devices here.