Case Study - The Brain and Spinal Injury Centre (BASIC)
Using the Computer Assisted Rehabilitation Environment (CAREN) to rehabilitate military veterans.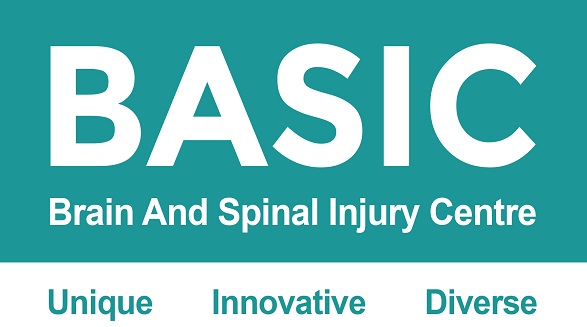 Testimonial for Motek CAREN
The Brain and Spinal Injury Centre (BASIC) have published a case study about how it's possible to rehabilitate military veterans using the Computer Assisted Rehabilitation Environment (CAREN), developed by Motek.
BASIC are currently working with 15 injured veterans who are receiving rehabilitation at the centre. This current programme is funded by the Sobell Foundation.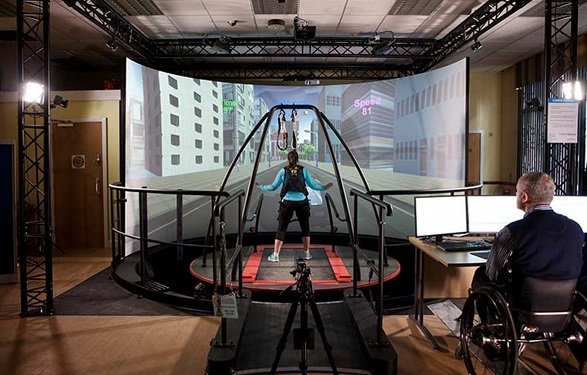 Military veteran John, a 31 year-old male, sustained an AVM (Arteriovenous Malformation) in 2017 while working at home building a horse box. Following admission to A&E he was diagnosed with an AVM and put into an induced coma. He then underwent brain surgery to stabilise the AVM and prevent it from re-bleeding into his brain. Following surgery he had a significant weakness of his left side, peripheral visual field loss on this left side and hypersensitivity on the left side of his arm.
He was unable to mobilise in terms of sitting and standing and his balance was compromised. He was totally dependent on all needs. At 8 weeks he was discharged from hospital. He was referred to BASIC following discharge from NHS services, under our veteran bursary program. This bursary has been funded by the Sobell Foundation.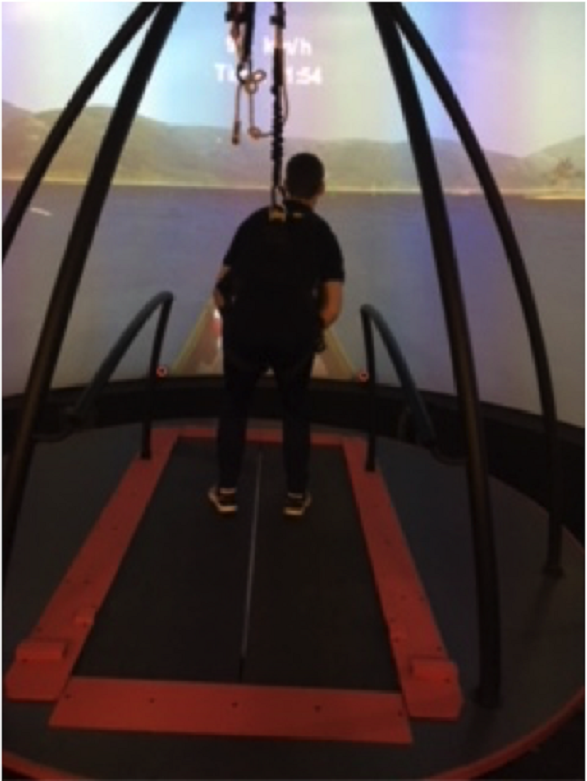 The physiotherapist identified appropriate virtual reality applications and progressed accordingly. He agreed to be harnessed on the CAREN for safety. He attended all of the CAREN sessions twice weekly for a total of eighteen sessions.
Aim of CAREN sessions: To improve balance, gait (walking), visual field and cognition from therapy services by using the CAREN.
Although he was independent with his mobility, he had difficulty stepping over obstacles and his walking was compromised due to not being able to look up when walking and balance problems which put him at risk of falls. He had mild anxiety and depression. He still required supervision with activities of daily living (ADL) due to reduced high-level balance skills and remaining visual field issues, multi-tasking was difficult and his mood was low.
Clinical outcome measures were completed pre and post the CAREN sessions, namely: Mayo-Portland measure for veterans, Dynamic Gait Index, 6-metre walk and Nottingham Extended Activities of Daily Living (NEADL). At the end of the intervention, a self-reporting evaluation sheet was also completed.
His personal goals were to reduce the sensitivity of his left arm, increase social participation, to be able to return to work and to be able to run again.
Result
All his clinical outcome measures improved: his NEADL (Nottingham Extended Activities of Daily Living) saw a significant improvement. He achieved his goal of running along with his goal of being independent in his personal care. He is now volunteering at the Equestrian centre owned by his wife and independently socially integrates into society. He stated that the CAREN was motivational, challenging and exciting.
You can view the original case study on BASIC's website here.
Client Testimonials
We're very impressed with the service that Summit provides throughout the procurement, installation and support process, and would highly recommend them.
Tom Wainwright
Associate Professor in Orthopaedics, Deputy Head of Orthopaedic Research Institute at Bournemouth University
There's been a great reception from staff who have found the C-Mill easy to use; our patients have loved it, remaining engaged throughout treatment sessions.
Nicole Cash
Clinical Lead Paediatric Physiotherapist, Portland Hospital for Women and Children
BASIC are delighted to be using the C-Mill with clients recovering from acquired brain injury. It's making a big difference to people's quality of life.
Wendy Edge
CEO, The Brain and Spinal Injury Centre (BASIC)
Working with Summit has been a very easy process… I would definitely recommend Summit for anyone looking to purchase AMTI force platforms.
Alex Chapman
Head of Performance Sport, Bryanston School
The Sports Surgery Clinic has only had positive experiences with Summit and I can only recommend them.
Dr. Chris Richter
Head of Research and Development, Sports Surgery Clinic, Dublin
Summit Medical and Scientific has provided us exceptional product support and service over the years. Summit responds quickly to correspondence and is always helpful.
Morgan Williams PhD
Senior Lecturer in Sports Science, University of South Wales
Working with Summit has been a professional yet personal and informal experience. Whether over the phone, in email or in person, we have always been on the same wavelength.
Gabor Barton MD PhD
Professor of Clinical Biomechanics, Liverpool John Moores University
The CAREN has improved my walking, confidence and hope for the future.
Client, 2019-20
The Brain and Spinal Injury Centre
The C-Mill is an amazing piece of equipment which has changed my life...
it's made me more confident and pushes me to make improvements in a safe environment.
Mike Jones
C-Mill user at The Morrello Clinic, number 2 in the European Disabled Golf Association (EDGA)
Significant functional improvements in gait are still possible long after Stroke with a high intensity rehabilitation programme using the C-Mill.
Jakko Brouwers MSc MCSP
Clinical Expert and Neuro Physiotherapist at The Morrello Clinic
The CAREN is a great machine, I would recommend it to anyone... It has helped me with balance, concentration and walking. It has met more than my expectations.
Client, 2019-20
The Brain and Spinal Injury Centre