Hocoma Erigo robotic table tilts recovery in patient's favour after COVID-19
Hocoma
The Hocoma Erigo robotic tilt table helped nurse Lisa stand and move her legs again after COVID-19 and developing diabetic neuropathy.
Lisa McDowell, Nurse at Franciscan Health, was diagnosed with COVID-19 in October 2020. She developed diabetic neuropathy, which left her unable to stand or walk.
Despite physical therapy and two spine surgeries, the weakness got worse. By February, Lisa needed a wheelchair and had to take a leave from her job.
The day after Lisa's first session on the Erigo, a robotic tilt table developed by Hocoma, she cried.
"The Erigo 'woke up' my left leg, and then I started moving my right foot, too," Lisa said.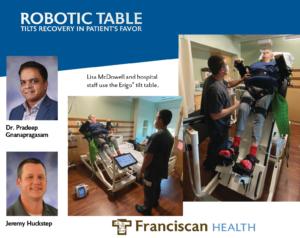 "The Erigo is the best piece of equipment to get people upright and starting to move again," said Franciscan Health physical therapist Jeremy Huckstep, PT, who worked with Lisa. "It's a great tool to take advantage of any recovery that might happen."
Now home, Lisa can move her legs completely. Although Dr. Gnanapragasam reminds her, "Baby steps – it takes time for nerves to come back," he's optimistic she'll walk on her own again.
"I give my therapists and the Erigo full credit," said Lisa. "It's an amazing machine."
About the Erigo
The mobilisation and verticalisation of immobile patients can be very challenging, and can be unsafe for patients and therapists alike. Hocoma's Erigo allows early and safe mobilisation, even in acute care.
Training with the Erigo is suitable for neurological, trauma, cardiovascular, and post-surgery patients. Neurological disorders include (but are not limited to):
Stroke
Spinal cord injury (SCI)
Traumatic brain injury (TBI)
The Erigo combines gradual verticalisation with robotic movement therapy, which ensures the safety of your patients while they are in an upright position. The robotic leg movement and the cyclic leg loading conducted by the Erigo is critical for the stimulation of the central nervous system. This means that your patients can be trained intensively and safely from a very early stage of rehabilitation.